Lactoferrin and More: 6 Holy Grail Products that Help Fight Acne
---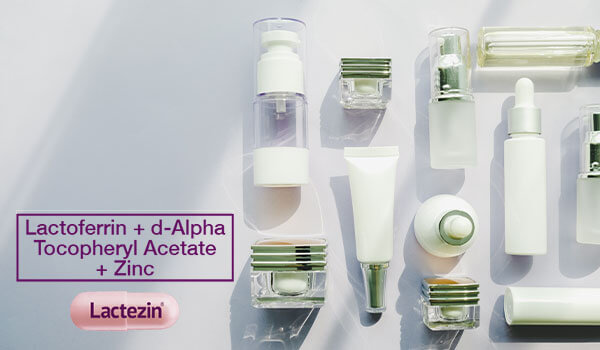 If there's one thing that makes acne so stressful, it's the annoying truth that it's not always easy to get rid of them. As one zit disappears, two or more would appear –- and they seem to be there forever. Your default step is to look for skincare solutions that will help banish these pesky breakouts. But with so many options out there promising the same bye-bye acne promise, which ones do you pick? What products and ingredients would have that holy grail status for acne control? Get to know your best bets for acne.
Oil-free facial Wash with salicylic acid
Cleansing your face is a given, but if you're prone to skin breakouts, cleansing it means using a special facial wash with active anti-acne ingredients. Go for oil-free facial wash with at least 2% salicylic acid. Using this product allows salicylic acid to unclog pores and cleanse the innermost parts of the hair follicles. As you wash, it also works by lessening skin oil production which is a major cause of skin breakouts. Facial washes with salicylic acid are often safe even for sensitive skin.
Alcohol-free toner with tea tree oil
Post cleaning, your skin may still have some dirt residues and sticky substance left. This is where your tea tree oil-infused toner comes in. It finishes off the cleaning by taking away deep-seated grime and oil that clog the pores. And because tea tree oil has antimicrobial and antibacterial properties, it also helps calm the skin from angry breakouts. Just avoid direct exposure to sunlight if you're using toners with tea tree oil as this can make you more susceptible to the effects of UV rays.
Non comedogenic moisturizers with hyaluronic acid and niacinamide
The thing about oily, acne-prone skin is that you cannot not moisturize it. It may have excess oils but when you wash away the excess sebum and other pore-clogging residues, your skin has the tendency to dry up and signal the pores to produce more oils. Hence, the need for the right moisturizer. Opt for one that has hyaluronic acid and niacinamide. Hyaluronic acid keeps the skin moisturized. It easily binds with water so it also offers better hydration for the skin. Niacinamide also known as Vitamin B3, reduces skin inflammation and blotchiness (skin redness) and helps treat common acne symptoms like pustules and papules.
Spot gel with benzoyl peroxide
Also known as one of your best bet ingredients against acne, benzoyl peroxide works well in controlling stubborn acnes. Spot gels with benzoyl peroxide helps minimize the swelling and redness of stubborn breakouts. It eliminates bacteria that often causes inflammation and pus on pimples. Spot gels are usually applied on areas affected. A good 2.5% benzoyl peroxide works for mild to moderate acne conditions. As benzoyl peroxide can be highly drying, avoid using high strengths of this ingredient (as others contain 10% benzoyl peroxide).
Sunscreen with zinc
Whatever type of skin you have (yes even if it's oily and prone to acne), you need to put on some sunscreen to protect your skin from sun damage. If it makes you cringe thinking that's additional oil on your already oily skin, go for sunscreen with zinc. Non-comedogenic sunscreens are not moisture heavy, and therefore, won't clog pores. Its zinc content has anti-inflammatory properties that can help heal skin breakouts faster. Add to that the fact that it also helps control sebum production. So then, sunscreen not only protects but also heals.
Skincare Supplements with Lactoferrin
Aside from topicals, one way to address acne problems is by taking supplements with lactoferrin. Lactoferrin is a natural protein that comes from milk. It gets rid of excess irons that attract acne-causing pathogenic bacteria. Taking in supplements with lactoferrin speeds up the skin's healing process because of lactoferrin's antibacterial, antiviral, antifungal, and anti-inflammatory properties that stimulate the growth of healthier cells. Working from the inside, supplements with skin-healing ingredients like lactoferrin helps get to the roots of the problem.
Treating acne is not easy, but it's not impossible either. Knowing the right product with the right ingredients is key to achieving this. Start by using Lactezin. It's the trusted skincare supplement that contains three active ingredients working together to banish acne and keep your skin healthy. Lactezin has Lactoferrin + d-Alpha Tocopheryl Acetate + Zinc. Lactoferrin has antibacterial and anti-inflammatory properties that reduce skin infections. d-Alpha Tocopheryl Acetate is an antioxidant that fights skin-damaging free radicals. Zinc helps regulate skin oil production to help improve overall skin appearance. Take 2 tablets of Lactezin everyday and see results in as early as two weeks.
Lactoferrin + d-Alpha Tocopheryl Acetate + Zinc is the generic name of Lactezin.
If symptoms persist, consult your doctor.
To know more about expert skin care, visit www.lactezin.com.
SOURCES:
https://www.nbcnews.com/better/lifestyle/what-are-best-skin-care-products-acne-prone-skin-look-ncna1032911
https://www.prevention.com/beauty/skin-care/g22852070/best-acne-products/
Frequently Asked Questions
Do you have questions? We have answers!
Clinical Studies
Find out more about the science behind Lactezin here.
Testimonials
Know what others say about Lactezin